Released in March! "Midnight Labors," a CD by Rich that includes 9 original songs. See press release.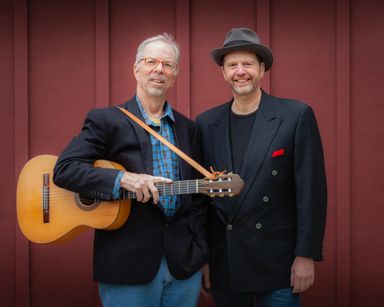 The Tango Cowboys is a duo that performs fun-loving music from America (North and South), specializing in vocal tangos and cowboy songs from the 1930s and 1940s and beyond. They tell the stories of their songs directly to the audience,  inviting them to travel between open range and the small cafe in Buenos Aires.
Tom Bourne-guitar
Guitarist Tom Bourne began in the 1960s playing surf guitar in the Arizona desert. His six-string journey has led him through rock, country, folk, classical, and jazz, working as a college guitar and music teacher, as a performing soloist, in various bands, and in the pit for many musicals. In forming Tango Cowboys with singer Rich Hinrichsen, Tom was taken by the harmonies of Rich's piano arrangements of Carlos Gardel's tango songs, which evoked memories of his immersion as a young classical guitarist in the sounds of Argentina. Adapting Rich's piano accompaniments to guitar, Tom creates a backdrop that is elegant and earthy. In their cowboy and folk songs, Tom draws from jazz, country fingerpicking and Celtic music, bringing expansive harmonies and dreamy rhythms to the Tango Cowboy soundscape.
Rich Hinrichsen-voice
Rich was inspired to take up music by his Father Bill who sang songs from musicals and played guitar, performing songs like "Try To Remember."  As a youngster, Rich moved between watching serial westerns starring John Wayne, singing, playing violin, double bass, and piano, performing in church groups, school, and around a small community in southwest Washington State. While a student in Ellensburg, Rich briefly played bass in a country group led by guitar Tom Bourne and songwriter/singer Steve Peha.  In 2016 Rich and Tom met at reunion and decided to form a duo after their rendition of Steve Peha's "Spaghetti Western Cowboy," turned out to be a hit with the crowd and other musicians. Over the last few years Rich developed a deep love for tango, which began when he saw Al Pacino play a blind man who danced tango in "Scent of a Woman." He discovered that the tango in the movie was written by the great Carlos Gardel, and after hearing Gardel sing, was sold on learning those beautiful tango songs. That took Rich to Buenos Aires to visit the last resting place of Carlos Gardel and to learn from singer Micaela Vita to bring tango to life and discover his own unique singing style.