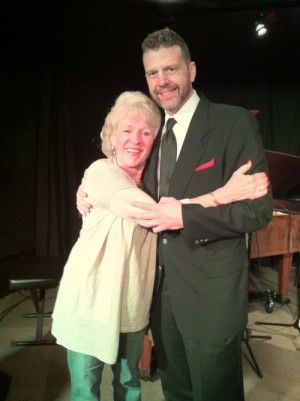 Rich and Willy Ertsgaard in Seattle, WA, March 27th, 2014.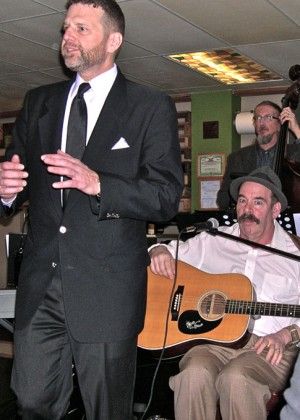 Rich introduces Stephen Cohen of The Tree People and The Walking Willows, at his CD release concert in Longview, WA, March 29th, 2014. Photo by Sheila Morey Wheelan.
I  just released my new CD, "Midnight Labors," at two concerts, one in Seattle, WA, and the other in my hometown of Longview, WA. The concerts featured live performances of most of the songs which I wrote over the last 34 years.  I performed my first jazz composition, "Sleepy Eyes," which I wrote in the Mark Morris High School band room for my girlfriend (at the time) Wendy Burnette when Jimmy Carter was president and before Mt. St. Helens erupted. My youth choir director at Trinity Lutheran Church in Longview, Willy Ertsgaard, attended the Seattle performance at the CMA gallery and Performance Space (see top photo). The Seattle concert featured Chuck Deardorf on bass, Matt Jorgensen on drums, Stuart MacDonald on sax, and Kirsten James on flute.  The Longview concert featured Dave Captein on bass, Todd Strait on drums, and Dave Evans on sax. Special guests included singer-songwriter Stephen Cohen of the Tree People and the Walking Willows, and singer Sherri Kingsley,  who graduated from Mark Morris High School with me in 1980.  I will never forget the feeling of being surrounded by my friends and family and performing my best for them. These concerts fulfilled a long-time dream of mine.